GlobalPSC Priority Product Stewardship Workshop Presentations Available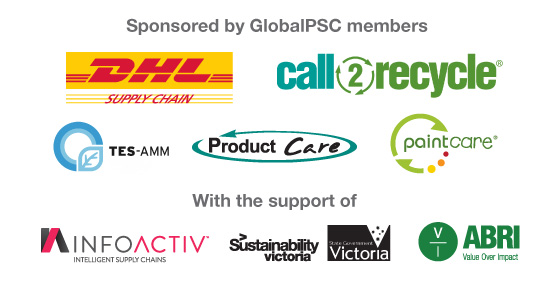 On 18 November 2013 in Port Melbourne, Australia, the GlobalPSC brought global leaders on product-specific producer responsibility collection and reprocessing initiatives together to help identify and learn from international best practice to assist Australia's efforts to develop national product stewardship approaches for batteries, paint and other materials. Featured international speakers included:
• Carl Smith, CEO and President, Call2Recycle (North America)
• Alison Keane, Vice President Government Affairs, American Coatings Association, on behalf of PaintCare
• Mark Kurschner, President, Product Care Association (North America)
• Corinne Faure-Rochu, Director Business Development, Recupyl (France)
An interactive panel session included these speakers and other product-specific experts on batteries and paint from the USA, UK and Australia. Full program and details are available here. A special evening function sponsored by the GlobalPSC, Sustainability Victoria and Infoactiv provided even greater access to this international line-up for GlobalPSC members.
Thanks to our speakers, sponsors and supporters, we were able to make attendance free for GlobalPSC members in proportion to their membership level.
Presentations from the workshop have been provided to attendees and are now available on the Knowledge Base available to GlobalPSC members under the Programs category in addition to being searchable in the Knowledge Base.
Share