GlobalPSC News – April 2017
IT and Content Disruptions
With recent IT changes and the failure of two backup servers, approximately 10 months worth of recent content was lost from the GlobalPSC site. We have been able to restore some of the lost content. However, if there is particular information or a particular post that you are seeking, please contact us directly. 
The GlobalPSC email servers were also affected for several weeks and service has now been restored. If you emailed us recently but have not received a reply, please resend the message and we will reply as soon as possible.
PET Recycling Growth in South Africa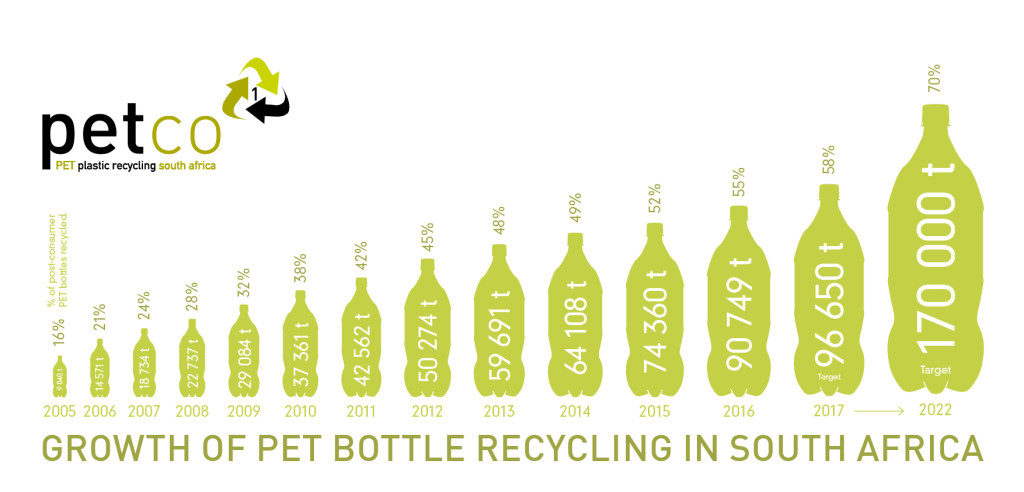 PETCO, the organization responsible for fulfilling the South African PET plastic industry's role of Extended Producer Responsibility (EPR), recently announced their annual PET recycling rate had increased from 52% of post-consumer bottle PET in 2015 to 55% in 2016, exceeding their expected target for the second consecutive year.
PETCO recycled an additional 22% of post-consumer bottles in comparison to the previous year, with the total PET market growing by 14.8% to 241,269 tonnes.
"PETCO is delighted with the latest figures," says PETCO's CEO Cheri Scholtz. "Through the remarkable network of people, companies and organisations we work with, 2 billion PET bottles were collected for recycling across South Africa during the course of 2016, creating some 62,000 income opportunities for small and micro-collectors, and changing their lives and those of their families in immeasurable ways."
The voluntary recycling fee paid annually by PETCO members on every tonne of raw material purchased has enabled the payment of a total of R1.9 billion (~ €130 million or ~US$142 million) by contracted recyclers to collectors for baled bottles since the inception of PETCO in 2004, ensuring the collection of PET bottles for recycling is sustained, and resulting in almost 800,000 tonnes of carbon and over 3 million m3 of landfill space saved to date.
PETCO reports that South Africa's 55% post-consumer PET recycling rate compares well with international PET recycling rates of ~ 30% in the US and European average rates of ~ 59%. However, PETCO also notes that considerable work is being done globally to understand these statistics, as the bases differ substantially and a direct comparison cannot be assumed.
Information and graphic supplied by PETCO.
An Auspicious Time for Change – Review of Australia's Product Stewardship Act
Australia's Product Stewardship Act requires a five-year review that has been announced but has yet to be initiated. Conducting the review as a priority could help address a plethora of social, economic and environmental issues, and result in additional economic development and job creation.
The GlobalPSC will be active in the Act's review in coordination with the Australian Department of Environment and Energy. GlobalPSC CEO Russ Martin recently assessed some of the opportunities for improvement through the review for CWS magazine. This assessment is now available online or as a PDF.
GlobalPSC Sustaining Corporate Member – The Compliance Map Ltd

Compliance Map develops solutions to help businesses manage their environmental compliance obligations arising from regulations and directives and to help optimize their use of resources. This includes product stewardship responsibilities, reporting and minimization of waste as well as carbon disclosure that will play a significant part in identifying, monitoring and driving down their customer's global environmental impacts.
Both Product Stewardship and EPR regulations and standards are at the core of Compliance Map's solution offering. This includes mechanisms to collect, store and produce remittance reports required for submission to EPR schemes for directives such as WEEE (waste electrical and electronic equipment), Battery as well as deposit and worldwide Packaging programmes. The solution offered automatically manages sales warehousing data and combines with relevant Packaging, WEEE, Battery, Oil, Beverage or Paint information to produce costs and weight reports ready to be remitted to registered schemes on a monthly, quarterly or annually basis. This enables companies to automate the entire process by which they track and report waste to schemes and programmes worldwide and make better use of their own resources.
Compliance Map are made of a team of regulatory compliance experts with over 20+ years of experience in the arena of environmental compliance which has been fed into their software solution offerings, creating a holistic approach to managing obligations businesses face in today's regulatory climate.
New GlobalPSC Member – Adaptation Environmental Support Pty Ltd

Adaptation Environmental Support Pty Ltd is a change management consultancy, specialising in environmental sustainability and product stewardship. Adaptation works with governments, small business, large corporates and the not-for-profit sector to develop and implement initiatives that support businesses to meet stakeholder expectations and exceed legislative requirements.
Adaptation leads clients to better understand and minimise the environmental impacts of business operations through the major areas of procurement, business efficiencies and end of life impacts of products and packaging. Organisational goals are met through effective planning and strategy development, business and stakeholder engagement, program implementation, performance monitoring and reporting. Adaptation's portfolio includes a range of pioneering environmental initiatives that have successfully reduced impacts, reduced costs, reduced risk and created cleaner work environments.
Location: Bondi Junction, Australia
Click here for more information.

Based in Santiago, Chile, Valoryza Environmental Advisors offer strategic advice and expertise to cost-effectively support compliance with EPR, by way of product stewardship programs to producers and organizations that are affected by environmental regulations.
As a regional expert with access to a global best practice network, Valoryza assists local and foreign companies in navigating through and succeeding within Latin American waste management regulatory systems and frameworks.
Key services include, but not are limited to, those listed below.
Offering representation and consultancy services to:
Chilean industries seeking to participate in the elaboration and detailed design of the EPR systems.
International companies with obligations under the EPR and other environmental regulations.
Strategic advice:
Design, implementation and administration of waste management systems under EPR regulations.
Cost-effective management of product impacts, in line with product stewardship requirements.
Elaboration of Strategic Plans to help guide companies as they face new challenges related to new and more demanding environmental regulations.
Solution design, implementation and management for:
Source separation, collection, packaging, processing and re-use of all types of waste.
Waste management aimed at recovery services to ensure the fulfillment of business sustainability goals and environmental commitments with both local and national authorities.
Valoryza consultants have extensive experience in conducting investigation, research studies, audits, assessments and developing strategic forecasts to support clients in meeting their obligations regarding manufacturing, waste management, sorting, transport and final disposal in the most responsible and cost-effective way.
If you represent a business with opportunities related to EPR, waste management or other environmental matters in Latin America, Valoryza is available to help.
Contact:
Rodrigo Leiva Neumann
General Manager
+56 9 72143053
Rodrigo.leiva@valoryza.com
Share